Business prospecting is calling on potential customers to offer your products or services. There are different ways to prospect, but most companies use the following tools in their prospecting plan:
Advertising
Advertisements in newspapers, on radio or television and of course on the Internet are a form of advertising. Companies can also create physical advertisements on vehicles or on signs and other billboards in their area.
Direct marketing
Direct marketing involves sending letters or emails to potential customers. Companies can also call prospects on the phone. There are many tools dedicated to this task, we will cover this topic later in this article.
Networking
Networking is about meeting people who might be interested in your products or services. You can meet these people at trade shows, conferences or even special events.
Natural referencing
The SEO: seo is an extremely powerful lever. Once integrated into your business strategy, it is usually one of the best business boosters around. Indeed, a good position on Google often rhymes with quality of service for the Internet user. The level of trust conferred by Google to the prospect who searches for a specific service and finds your company on page 1 of the results is enormous.
Top 10 CRM and Sales Prospecting Software
Important Information: This list contains affiliate links, I receive a fee if you decide to subscribe to a CRM (Business Relationship Management) software. This does not affect the price of the software. This method allows me to finance my blog and to continue to produce useful content for Internet users. I was not sponsored to write this top prospecting software.

Simple CRM software is the Key to success
Finding a simple to use CRM software is the key to your success. Simple for you doesn't necessarily mean simple for someone else. This list shows you different software that uses different interfaces and methods, you will most likely find the simple software you are looking for.
A good business development software is probably an important resource for your business development. However as an entrepreneur you know that being well-equipped is a crucial necessity, no matter what field: accounting, YouTube video, content writing, legal service and so on.
1. ClarkUp: the new star of prospecting software

ClarkUp delivers a simple message, that of increasing your turnover!
What better way to grow your business?
ClarkUp offers a solution based on existing CRMs while bringing innovation to it, notably that of customizable video for a more human, more authentic relationship…
The strong points of ClarkUp:
Integrated CRM tool
Prospecting on social networks: LinkedIn / FaceBook / Instagram / Twitter
Also on Google MAPS !
Or by your prospects Websites forms…
Downloads hundreds of Qualified leads in minutes from social networks
Integrates a short video editor associating an animated GIF visible in the prospect's email
Creates/edits a customizable video page directly from the ClarkUp extension
Ability to embed the

GIF image generated from the video in the body of your emails

Possibility to embed a call-to-action button with a URL to go to your website, book an appointment, webinar…
Integrated appointment calendar ( An example here of what your prospect might receive )
Intuitive Pipeline for following up on your leads, fully customizable to your needs
Integrated messages ( Templates ) allowing a time saving for sending your messages with personalization
Integrated training in the form of short educational videos in the user interface
Statistics, filters and numerous reports, allowing you to follow the evolution of your activity on a daily basis
Very responsive French support
The weak points of ClarkUp:
His youth, the project is in its launch period
Little hindsight and little feedback on effectiveness
Does not handle phone calls but Video could override this handicap
ClarkUp's pricing:
Since December 1, 2022, the offer is broadcast on 3 different plans :
Plan Basic : 15 pipelines, 15,000 Leads at €149/month or €1499/year
Plan Gold : 50 pipelines, 50,000 Leads, 2 sub-accounts at €299/month or €2999/year
Plan PREMIUM : Unlimited Pipelines, Unlimited Leads, 3 sub-accounts at 499€/month or 4999€/year
To get a SINGLE OFFER with LIFETIME ACCESS it's HERE!
Monthly subscriptions are NOT AUTOMATICALLY RENEWABLE, so you can take advantage of it to test for the duration that suits you WITHOUT COMMITMENT…
Your external agenda integrated on ClarkUp :
Since recently, ClarkUp offers you the possibility to share your external agenda directly on the personalized video page for your prospects.
So from the first contact you can offer your prospect an appointment booking on your Google calendar, Calendly or others that offer this possibility of integration by HTML code.
Here is an example of what you could send to your lead.
All ( optional ) options are gathered on this demo :
Customized title
Customized video
Short description
Button to take action
Agenda for appointment availability
ClarkUp account for the Gold and PREMIUM plan :
Since December 8th Gold and PREMIUM plan owners have the possibility to create sub accounts, for the needs of their sales team members.
2 sub-accounts for the Gold plan
3 sub-accounts for the Unlimited plan
AUTOMATION MARKETING : 
Connect ClarkUp to your apps to create some automations. ZAPIER and MAKE are integrated so you have the potential of more than 6 000 apps possibilities for this aspect.
Less time and more efficient !
For a more important service, more sub-accounts, it is possible. You need to contact them to explain your needs, your expectations and they will make you a personalized quotation!
My opinion on ClarkUp: this management / prospecting / sales follow-up ( CRM ) solution has a very very big potential. The short personalised videos can be an undeniable asset for a more human contact, a better opening rate of messages and a priori a better final conversion rate.
This is a level of professionalism that will make all the difference for those who use it.
It's a pity that the tool doesn't (yet?) manage phone calls… But isn't video better in the end?
Only designed for prospecting on social networks!
But how powerful is this Video function with the GIF for making contact.
To see a ClarkUp demonstration and get the possibility of Life ACCESS (and it's worth it!): Go to their official website
2. Plezi: The ideal tool to manage an entire digital marketing strategy
Plezi is a marketing automation software dedicated to B2B. It describes itself as a powerful automation tool that can continuously support you in the development of your digital marketing strategy. To meet your expectations, Plezi offers to carry out an audit of your strategy before defining a personalised action plan for your company.
In concrete terms, what this software offers is to help companies carry out the marketing tasks that define an impactful digital marketing strategy. It is designed to help you guide you in all your marketing actions. So it all starts with your own content. The creation of each of them benefits from a step-by-step support, until publication. The aim is to exploit the content afterwards and include it in your marketing scenarios.
Because this content marketing management solution is specialised in B2B, it is very popular in specific sectors, including communication, marketing and IT. Easy to access, Plezi also seems to meet the expectations of associations, craftsmen and various entrepreneurs. To allow its customers to get a precise idea of its performance, this software offers a free unlimited trial version. If you decide to trust it to drive your digital marketing strategy, you will pay an annual or quarterly subscription. In addition, you will have the choice between three different packages.
The classic package, available at €299 per month, is aimed at companies wishing to attract more leads to convert them into potential customers. With a capacity of 1,000 contacts, it offers the following features:
Content Management, Publication and Promotion
Contact Management
Unlimited email blasts
Landing pages and forms
The second package, available at €599 per month, includes 4,000 contacts. Integrating all the previous features, it is aimed at companies wishing to optimise their customer acquisitions. So add the following options:
Smart scenarios
Marketing workflows
Newsletter automation
Lead Nurturing
Finally, the third package is a tailor-made offer. It will allow you to benefit from specific coaching. You will determine your needs and expectations, according to which a rate will be proposed to you. Of course, you will benefit from all the previous features.
In addition to its wide range of features, Plezi is interesting from a practical point of view. Indeed, its interface is described as ergonomic by users. In addition, it is customisable, which helps to improve user productivity. Accessible online, this marketing content management software is easy to install. Of course, it is available in French.
My opinion on Plezi: lower prices than competing software, many very useful features, several packages, a tailor-made offer, permanent support and an intuitive interface, this solution has many strong points. Specialised in B2B and able to adapt to different sectors and all types of companies, it offers the tools and knowledge to develop and optimise a successful digital marketing strategy. With its smart campaigns, you won't even need workflows anymore.
To offer you an objective opinion, I also have to tell you about Plezi's weak points. While it's easy to integrate with your CRM and less expensive than HubSpot, for example, it's also less rich and comprehensive. Among the shortcomings are the management of SMS marketing and Instagram.
In any case, Plezi manages to meet the expectations of many companies since it announces, on its website, that it currently supports more than 400 companies in a multitude of sectors!
3. Karlia: All in one accessible to all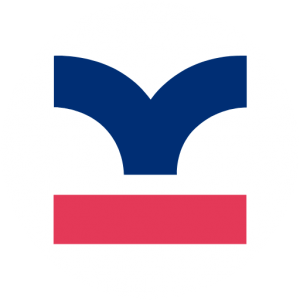 Are you about to launch your business and are looking to equip yourself with management, invoicing and prospecting software? Karlia is one of the few CRM tools to offer integrated invoicing. For a few euros more than an accounting software such as Sage Compta, you will have in addition a whole ecosystem allowing you to develop your company, and this from the smallest legal form which is. Karlia is accessible to very small businesses and this is what makes it really attractive.
As far as prospecting is concerned, Karlia allows you to work in groups, i.e. each additional user account is not free (from 15 to 25€/month depending on the chosen licence). The basic licence, which costs just under 30€, contains 2 user accounts.
The ability to create reminder logics (see image below ) makes it a very good tool for prospect reminders.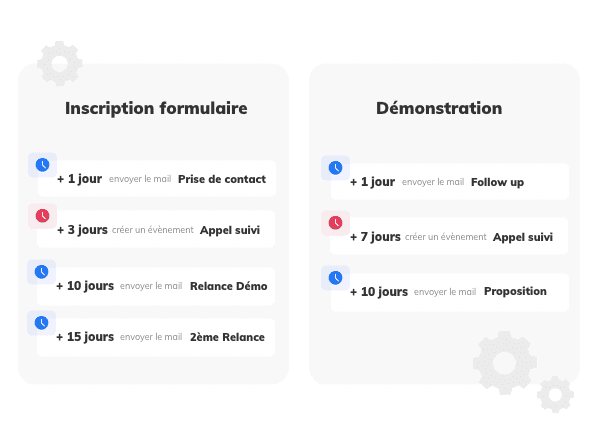 A ticketing software: if your company has to manage customer support, the Karlia solution also integrates a numbered ticket system. This is very valuable for IT companies, web services for example, where it is not uncommon to need technical assistance and to delegate this support to various experts, each of whom can track the support ticket.
The highlights
Customisable quotes and invoices
The ability to accept payments online
The ticket system to manage customer questions
The free 1 month trial period
Analytics integration: Google Tag Manager, Google Analytics, Facebook Pixel, LinkedIn Pixel
If you want to discover Karlia, this affiliate link will also give you 1 month free if you decide to subscribe: https://karlia.fr/fr/
4. LeadIn: Specialised for LinkedIn and Emailing – 14 Days Free!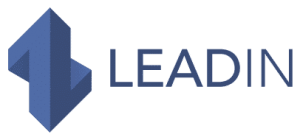 LeadIn is a solution that focuses specifically on LinkedIn as well as Email marketing. This tool allows you to set up custom scenarios by lead groups. The prospects come from your linkedin or email base, so you will also have to work on your publications on this professional social network in order to have an extended « reach ». LeadIn announces very promising figures with results 2.7 times higher than with traditional manual actions.
The strengths of LeadIn:
Easy graphical editor to customize your media (allows you to pencil in more attractive Emails )
High deliverability of sent emails
Can be used for recruitment ( compatible Recruiter Lite file, CSV file etc. )
On average finds 5-20 highly qualified leads per month (according to LeadIn).
Runs via the Cloud (you won't have to leave your computer running locally)
Creates custom campaigns for Linkedin
Easy-to-use user interface
No commitment period, termination possible at any time
For me the undeniable advantage of this solution is the possibility to use it 14 days for free.
5. HubSpot: empower your salespeople with superpowers

HubSpot is a globally recognised contact management software. Its price varies depending on the number of contacts you will manage, from 41€ to more than 3 000€ per month if you have 10 000 contacts! The €41 version is simply a « Hubspot light » that allows small businesses to start email marketing campaigns and manage forms. Unfortunately, the basic version does not allow you to manage social networks, which is a bit of a shortcoming of this entry-level license. Especially since in 2022, it is difficult to do without social networks in your communication, whether it is LinkedIn for B2B or Facebook or Instagram for B2C for example.
In its basic version, HubSpot is therefore mainly an email marketing automation solution.
HubSpot's strengths
a globally recognised solution
suitable for medium and very large companies
training included with the software
a hotline for support
Hubspot's weaknesses

no trial version
the base license does not cover social networks
Editor's note: We were unable to find out if there was a commitment period on this software.
My opinion on Hubspot: it's a robust solution, however the price is not suitable for small businesses, as creating email campaigns and forms can now be done via other much cheaper tools. Of course, if you are planning to grow, Hubspot is a solution to consider.
To find out more about the Hubspot solution, go to the official website by clicking here.
6. noCRM: a simple and effective solution

noCRM offers sales prospecting software that is designed for sales teams. What it promises you: reach more prospects and turn them into customers quickly. If you briefly browse through the user reviews of this online program, you will read that it convinces in particular thanks to its easy handling and its efficiency.
And if you ask the noCRM team how this solution manages to stand out from the competition, they will tell you that their sales prospecting software has a specific goal: selling. In fact, this program accompanies you throughout the process of turning a prospect into a customer. To do this, noCRM offers a multitude of tools.
noCRM is intended for small and medium-sized businesses that want to rely on an easy-to-use and effective digital tool to develop a powerful sales prospecting strategy. Its various formulas allow it to meet the expectations of a single salesperson or a sales team of up to 100 salespeople.
The features of noCRM
The numerous functionalities of this online-accessible software fall into five categories. The commercial prospecting focuses on the follow-up of prospects, commercial opportunities and customers. On the tools side, there are, among others, the prospecting files and the online spreadsheet dedicated to the entry of prospects (You will have the possibility to import this list directly from another spreadsheet). Once this list is ready, you can launch various actions (emails, calls, etc.) for each prospect, with just one click.
The other categories offer you a multitude of tools related to opportunity tracking, statistics and forecasting, customer management and post-sales follow-up as well as integration of the software with other tools.
As a future noCRM user, you will be happy to know that the customer service of this online software can be reached by phone and email. Not only will you exchange in French, but you will get quick feedback.
The rates
You can have access to a fifteen day trial period (the link to get it is at the bottom of this article). Thereafter, you can join one of the paid packages offered. The first one is accessible at 10 euros per month. It can accommodate up to three simultaneous users and offers all the tools needed to create opportunities and manage the process leading to a sale.
The second package costs 19 euros per month and includes all the features of the previous package to which it adds access to the noCRM api and the Zapier integration dedicated to task automation. In addition, you will receive feedback from online support within a maximum of two hours instead of 24 hours.
Finally, the last package is available at 29 euros per month. In addition to all the above features, it adds team management and creation as well as advanced email management. With this subscription, you will interact live with advisors via phone, chat or email.
My opinion on the noCRM sales prospecting software
As you have understood, the strong point of this program is its simplicity of use. Users are unanimous, the interface, via the mobile app or directly on the Internet, is clear and intuitive. In view of its functionalities, noCRM seems perfectly suited to small and medium-sized companies as well as to freelancers. Nevertheless, the functions are limited for a larger company, which explains the very attractive prices.
Highlights
Ultra Simple
A good tool for sales teams
Many modules are available to extend the functionality of noCRM
30 Days free trial without credit card ( only by clicking via this link )
the very simple and accessible pricing for very small businesses, starting at €10 per month per account.
Weak points:
Not found yet! if you know of any, you can leave it as a comment at the bottom of the page
You want to benefit from noCRM's credit card free trial version: go to their website https://www.nocrm.io
7. GetQuanty: a dedicated B2B solution

GetQuanty is a B2B sales prospecting solution based on AI and the prospect's journey to the customer site. The platform uses a unique blend of artificial intelligence, machine learning and data-driven analysis of the customer journey to generate personalised and relevant sales prospects for its users. Their solution helps marketing and sales teams generate new leads and close more deals. GetQuanty also allows them to measure their return on investment.
Ideal for those who want to contact prospects who have already visited their website. The software allows you to match your prospects with the right contact person. Indeed the tool has the advantage of being able to identify the decision maker of a company to maximise your chances of closing your deal. It also helps you identify which pages on your website are most important to get more inbound traffic.
Based on all these elements and thanks to predictive analysis, the solution detects the best time and by which means to contact your future customer.
My review of the GetQuanty B2B sales prospecting solution
Although very good on the theory and use of Artificial Intelligence I am not convinced of its effectiveness since cookies can be refused for the respect and right of Internet users.
Highlights
Dedicated to B2B
Identifies your site visitors for retargeting
Uses Artificial Intelligence and predictive analytics
Weak points:
More and more people are refusing cookies, is GetQuanty still relevant ?
Requires relative traffic to your website to be actionable and profitable
Want to know more:Visit the official GetQuanty website!
8. SellSy: a complete management software
This digital platform promises to give you much more than just a CRM. With a multitude of tools and personalised advice, it helps your business succeed. To convince you, SellSy relies on efficiency. And to enable your company to manage the administrative, marketing and sales areas effectively, this software provides you with specific functionalities in each of these areas.
SellSy helps you achieve your objectives by providing you with specific and effective tools. These are divided into the following areas:
Invoicing and management
In this category, you will find all the necessary tools to facilitate the overall management of the company. Administrative and financial teams will use the functions :
Invoicing
Purchase management
Payment security
Bank reconciliation
pre-accounting
Prospecting and selling
This is where you will find all the tools dedicated to prospecting, the objective being to multiply prospects and convert them into customers to increase your sales and turnover. Marketing and sales teams will therefore benefit from the functions :
Tracking and scoring
Contact management
Quotes and signature
Automation
Opportunities
Cash management
SellSy also facilitates cash management. To do this, it provides you with the functions:
Customised reporting
Bank synchronization
Cash flow forecasting
Automatic categorisation
Multi-scenario
And to help you get to grips with the software and make the most of it, SellSy offers you access to video content designed to accompany your first few uses. You will also be able to ask questions to the experts via thematic workshops online.
Focus on getting started with the software
This platform is easy to use. Readable and ergonomic, it manages to ensure clarity while displaying a lot of useful information on its interface. This flood of data can be confusing for new users. After all, this is a full management software package. That's why videos to help you get started are useful. You can access the SellSy interface from your computer or tablet via an Internet connection. Important information: the program and data are hosted in France.
Video presentation
SellSy's strengths
SellSy is a complete management tool. It doesn't just support you in your sales prospecting process. This all-in-one program provides tools for administrative, financial, marketing and sales teams.
It's getting started quickly and facilitated by various dedicated tools. Its use is both easy and efficient. In addition, the support is French-speaking and responsive.
SellSy adapts to all business sectors.
SellSy's weaknesses
This online platform does not offer a free trial version. However, you will be able to enjoy a fortnight's free use after signing up.
The dedicated international customer service is less responsive. If your company has offices abroad, they may be impacted.
SellSy pricing
To find the right tariff for your needs, you will need to refer to a double entry table. In effect, you need to determine which features will be useful to you. It is a kind of à la carte menu. Note that prices depend in part on the level of support and the volume of use. Visit the French SellSy website to learn more about the package that fits your business needs.
9. Hunter: dedicated business email search software

Hunter is a email search software available online. It offers a very useful tool for businesses as it allows them to find and verify business email addresses. Designed to meet the expectations of businesses of all sizes, this email marketing solution will help you to send informal emails, export search results or even insert striking images into emails.
Beware, however, of complying with privacy legislation. RGPD and other legislation applies regarding the collection and use of email addresses!
With this customer data integration software, you can find business email addresses quickly and easily. Good news: this program offers afree trial version. If you sign up, you will pay a subscription fee of 39 euros per month. This rate changes according to the options chosen by users. Please note that the free trial version is limited in time and does not offer access to all the features.
Note: this online software is particularly popular with small and medium-sized businesses involved in marketing activities. Accessible in French, it offers online support offering tutorials and forums as well as technical support reachable by phone, email or via chat.
This online tool has a ergonomic and pleasant interface. In addition, each user can customise it to make it their own more quickly. Easy to use, Hunter does not pose any difficulty in setting up or configuring. The intervention of an integrator is therefore unnecessary in most cases.
The features of Hunter
The two main features of this simple yet effective online tool are:
This feature allows users to find business email addresses in seconds. You will proceed manually or from lists. Because it exploits many signals, the software is able to findthe best email address in less than a second.
The purpose of this function is to check all email addresses before operating them. For each one, the program performs a complete check allowing you to send emails with peace of mind.
Other features are provided by this email search software:
Advanced filters
Exporting results
Scoring and verification
Prospect registration
Subscriber management
Email campaign management
Template and list management
Reports and analytics
Hunter's strengths
Free trial version
Friendly and customizable interface
Fast and efficient use
Possible integration with multiple platforms
A mode that allows processing of a large volume of data
Hunter's weaknesses
Lack of a social network search function
Some users lament poor responsiveness of technical support
Considering that this is only a component for developing a marketing strategy, the fee may seem high.
My review of Hunter: This email search software seems to excellence in its specialty. Its users describe this tool as simple, fast and effective. But given its features, it cannot, on its own, support your business prospecting activity. You will need to leverage other tools to optimize your marketing strategy. It is important to consider this aspect before choosing this software, which has received many positive reviews on the web. With the free version, you can be sure that this software is able to meet your expectations without paying a cent! And above all be careful, SPAM is forbidden, if you get caught red-handed, the fine can be very heavy!
Official website: https://hunter.io/
10. PipeDrive: a customer relationship management solution thought and developed by salespeople for salespeople

Featuring an easy-to-use interface, PipeDrive software helps businesses grow their sales. To do this, it puts a multitude of tools at their disposal. These also allow it to offer assistance with account management. In fact, PipeDrive supports you throughout the sales process. Very popular with small and medium-sized businesses, this solution is an ideal first CRM. Thanks to it, you will successfully structure your entire sales process.
The main functionality of PipeDrive: the sales process
As you may have guessed, this software focuses on its visual pipeline. This is built around deals that start at opportunity status and end in success or failure. Either way, you'll have the choice of running a standard sales pipeline offered by the software or one that you carefully customise. This is made easy by the configuration options.
PipeDrive offers an intuitive, complete and practical interface for its sales tunnel. It is very easy to change the opportunities as you progress. By means of simple « click and drag », you will access up to six statuses to manage the evolution of your deals. This way, you will be able to see your entire sales process at all times, in real time.
To accommodate companies that use work teams, PipeDrive's interface offers a filtered version. This allows each group of users to view the opportunities that are relevant to them. With the filtered view, work teams can also detect weaknesses in the sales process and thus develop strategies to address them. With these types of functions, PipeDrive helps companies to develop an effective sales strategy.
The features of PipeDrive
Sales pipeline management
Objectives and activities
Email integration
Sales forecasting and reporting
Workflow automation
Creating forms for the web
Google Apps integration
The strengths of PipeDrive
Ergonomic and comprehensive sales pipelines
An intuitive and highly functional mobile application
A clear and easy to learn interface
Multiple possible integrations
Large customisation possibilities
Attractive prices
Weaknesses of PipeDrive
Limited marketing features
Lack of dedicated customer support features
Pricing
PipeDrive offers several packages to meet the expectations of each company. The first one is accessible at 14.90 euros per month. It brings together all the features that will allow you to set up simple sales processes. The second costs 24.90 euros and offers additional tools to manage emails and automation. The third is 49.90 euros per month and brings together all the features you will need to improve your performance and results. Finally, the last package is available at 99 euros per month. It offers all the customisation options and puts at your disposal a responsive and efficient support team.
My review of PipeDrive: PipeDrive was developed by two sales managers who are experts in their field. It is a customer relationship management solution based on avery simple concept. Specifically developed for salespeople, it aims to facilitate sales processes and it does this brilliantly. This allows salespeople to focus on their core business: selling.
Admittedly, its functionality is limited compared to other software in our selection. But with its clear and intuitive interface, advanced customisation options and guaranteed ease of use, PipeDrive can boast of simplifying and fluidifying the management of the sales process.
To find out more, go to the official website by clicking here.
Other useful software in business prospecting
Sarbacane: the complete, fun and intuitive software to create your mailing campaigns

Sarbacane is a mass mailing software. This simple and intuitive program invites you to create your mailing and takes care of ensuring its arrival in the inboxes of all your contacts. To do this, it relies on advanced routing technology. Sarbacane promises efficiency and reliability that will allow you to place spam as a bad memory.
Sarbacane mailing software was created in 2001 to meet the expectations of small and medium-sized businesses. Available online, it has a Desktop version. To stand out from its competitors, this programme relies on the quality of its services and its support. Add to this a convincing ergonomics and advanced features. Sarbacane embeds state-of-the-art technologies to meet all the expectations of its users.
Sarbacane's main features
Unlimited contacts import
Contact manager
Campaign management
Campaign reporting and analytics
Numerous personalization tools
Mail address autocorrection
Template editor
Sarbacane pricing
To allow its future users to get an idea of its performance, Sarbacane offers a free 30-day trial period. During this time, you will have access to all the features. Thus, you can test everything. At the end of this trial period, you will have the choice between several subscription packages. Each one is offered without commitment. In other words, you can stop this subscription at any time and without any conditions. In addition, you can change your subscription package at any time.
Companies that rely on regular campaigns are well advised to opt for a subscription. But those who plan to send occasional emails can opt for credit packs. These are valid for one year.
The cheapest subscription is available at€59 per month. It supports a single user. In collaborative mode, a subscription at €129 per month supports three users and includes a domain name and dedicated IP. At 229 euros per month, you will access the most complete package: 10 users, three domain names, three IPs and a dedicated coach.
A strong point of Sarbacane software: a fun and intuitive interface
Sarbacane has been designed to be accessible to all. The customisation options optimise its ergonomics and practicality. With this software, creating a mailing is very easy! In just a few clicks, you can create your newsletter and compose your messages. To achieve striking creations, the software offers you a large choice of HD images and a photo editing tool. Customisable template galleries are also available to make your job easier. The icing on the cake: your mailings will be automatically optimised to be readable on tablets and mobiles.
Sarbacane's strong points:
Full-featured online email marketing software
Simple, fun and intuitive solution
Personalized support from experts
The weak points of Sarbacane
Higher prices than competitors and not visible on the site. You have to create an account to have access to this information.
My opinion on Sarbacane software:
This French emailing software is ideal for entrepreneurs who want to benefit from support. Few online programs offer this level of support from emailing experts. Not only will you benefit from many features, but a real simplicity of use. Add to this an intuitive and ergonomic website and personalised support. This justifies slightly higher rates than competitors.
AirCall: call management connected to your CRM

Aircall is a VOIP program dedicated to companies that want to modernise their call centre management. The letters VOIP stand for Voice Over Internet Protocol. Translated asVoice Over Internet Protocol, it is a technology that allows calls to be made and received using the network. The first asset of this leading software in its sector is its easy and quick configuration. Thanks to this, you'll be up and running in no time. Before exploiting the many features offered, you will customise all the parameters to adapt this tool to your needs.
Specifically, Aircall will invite you to create telephone numbers in a hundred countries. Thus, the software will allow you to contact your customers anywhere in the world. Collaborative, the program will offer you a global view of user activity. In real time, you will see which salespeople are online and which are available. This information will allow you to better manage incoming calls.
Aircall's features:
Another strength of Aircall is its ability to mix innovative and traditional features. Indeed, it is a rather comprehensive VOIP software.
Corporate telephony: International numbers, special numbers, conference calling, messaging, telephone permanence, Interactive Voice Server, cascade call routing, Blacklist, extensions, business SMS, virtual call center
Collaboration: Accompanied call transfer, shared contacts, shared call log, assign calls
Call Center: Phone queue management, real-time changes, dual calls, unlimited simultaneous calls, callback request, time routing, call routing by skill, call recording, pause recording
Productivity: Click-to-dial, speakerphone ring tones, mobile forwarding, search filters, call tags, after-call-work, call automator, Aircall Application and CRM integration
Statistics and supervision: Real-time call centre dashboard, call performance analysis, call supervision, double listening
Integration: API, telephony-IT coupling, contact synchronisation, one-click installation, Insight Cards
The strengths of Aircall:
Easy set up and use
Unlimited international calls
Real-time call tracking
Application integrations
API support
The weaknesses of Aircall:
Higher rates than the competition
No team messaging or file sharing
Aircall's pricing
Aircall offers several packages to its users. The first is available at 30 euros per month per user. It supports three users. The basic features are present. The second, richer, is priced at EUR 50 per month per user. The number of users does not change. The third package supports ten users and offers a personalized pricing. In all cases, you will enjoy a free 7-day trial.
Who is Aircall for?
This solution is aimed at all companies that want to create a functional, modern and pleasant call centre. Its multiple functionalities allow, among other things, to manage calls on a single playful and intuitive platform. Aircall also meets the needs of commercial teams looking for solutions to improve their productivity. Finally, companies requiring a customised contact centre system will also find something to their liking with Aircall. With customisation options, this online software adapts to the specific needs of its users.
My opinion of Aircall:This solution is ideal for sales teams that handle huge volumes of calls on a daily basis, especially if they deploy worldwide. Its ease of installation, intuitive interface, global vision and numerous software integrations are all assets that allow the creation of a perfectly functional, responsive and user-friendly call centre. It should be noted that the prices of this solution are higher than others that are nevertheless more interesting in terms of functionalities. Nevertheless, the objective is to find a software that meets your specific expectations and not only in terms of functionalities, but also from the point of view of integrations, fluidity, handling…
What does the law say about commercial prospecting?
Whatever the tools it relies on, commercial prospecting is framed by strict rules (more information on the CNIL article). It is important to be aware of them when prospecting.
For companies that prospect through emails, the law requires that individuals be informed before consent is obtained from them if they are individuals. On the other hand, if the prospects are companies, they must be able to object to this commercial prospecting by email.
With regard to canvassing by telephone or mail, the targeted persons must also be informed and be able to object in a simple and free manner.
Companies may also solicit prospects through SMS and MMS. Once again, the persons concerned must be informed in advance and give their consent. As for companies, they must have the possibility to object to this form of prospecting. The rules are the same for commercial prospecting by callers.
How to respect the refusal of prospecting?
As you have seen, individuals and companies have the right to refuse to be canvassed. In this case, it is imperative to respect this refusal. In other words, you must not re-solicit the refractory. There is a tool to avoid this, it is the repellent file. With this document, you will be able to list all prospecting rejections.
B to C prospecting: is it possible to transmit personal data?
Transmitting personal data belonging to prospects (or customers) to partners and for commercial prospecting purposes is possible, but rules are required. These depend on the nature of the prospecting tools used by the partners.
Again, prospects must be informed and have the possibility to refuse to be canvassed. In addition, companies that collect personal data transferred by partners must respect several obligations including: limiting the duration of retention, data security, being able to provide proof of consent from the prospect…